The 15 Best Magento Email Marketing Extensions & Platforms in 2021 + Email Hacks to Increase Sales
Which Magento email marketing platforms should you be using?
If you're still scratching your head and feeling a little lost in the mix, you're not alone.
We know there are many email marketing apps available, and many of them offer quite similar features.
So, how do you find the one that's right for your online business?
Start right here.
We've analyzed the most popular platforms to bring you a list of the best Magento email marketing solutions to help you bring in more revenue, get better data-driven customer insights, and free up time using automation.
Whether you're just starting out with a campaign, or looking to take your entire email marketing strategy up to the next level, we're confident that you'll find the right solution provider in this list.
Email is Still King
According to HubSpot.com, 99% of consumers check their email every day.
If you are a Magento merchant, email marketing should ideally be your first choice of marketing channel.
If you're already running a basic email marketing strategy for your online store and are looking to move into things like personalization and automation, then you've come to the right place.
There are quite a few high quality Magento email marketing partners who provide free extensions and manual integrations. If you can sync your store to your email marketing platform, you're already one step ahead of many others! Now it's time to take it up a notch and explore some really powerful tools.
Types of Emails
Magento does a great job of giving small business both the power and flexibility to grow. And your email marketing strategy should do the same.
When you're looking for the right Magento email marketing partner, you should first make a list of the types of emails you are sending, and the ones that you'd like to send in the future.
Knowing what types of emails you are planning to send will affect the type of email marketing software you go for.
Operational and Transactional Emails
Think of your customer's very first interaction with you and what the ongoing email communication is going to be like.
You wouldn't want to start with a wonderful, warm welcome email and then go straight into cold, or off-brand transaction emails. So, keeping your personality consistent on every single piece of email communication is important. Having control of things like design and copy on these emails will ensure that you have full control.
What types of emails fall into the transactional or operational category?
Verification or confirmation emails (such as password creation or resets)
Onboarding emails, account setup, preferences
Billing, terms and conditions, or privacy and data agreements
Payment receipts
Monthly account statements
Shipping and delivery notifications
"Transactional emails are more likely to be opened, are more likely to be opened repeatedly, and generate more revenue per email than promotional emails."

The Beginner's Guide to Optimizing Transactional Emails – Rejoiner
Milestone emails
This is often a customer's first experience of personalisation in email marketing. Things like birthdays, signup anniversaries or even personalised seasonal offers are a great way to grow closer to your customers and can boost your retention strategy without too much effort, if you have a tool with some automation to run behavior-based email marketing.
Milestone emails can include:
Birthday wishes
Birthday discounts
Signup or purchase anniversaries
Seasonal or achievement-based rewards
Progress emails (for example to encourage customers to complete their profiles by rewarding them for making small updates)
Retention
You could argue that ALL email marketing should be retention-focussed and that's quite true. Although, we find that splitting them up into the categories we chosen here gives them more of a focus and it's also a good way to move beyond giving customers a one-size-fits-all experience.
These types of retention emails keep your customers engaged, up-to-date with the latest products on offer, encourage them to complete their profile details, and can even be used to get more information about their preferences (for example: customer surveys).
Here are a few types of retention emails that you should consider:
Newsletters
Company updates
Editorial content (these work well for fashion and beauty brands)
Promotional offers
Seasonal offers and discounts (e.g. holidays like Christmas, Thanksgiving)
Cart abandonment emails (e.g. reminders to complete the purchase)
How-to guides and inspiration
Requests for reviews
Now that you have a good understanding of the types of emails that you could be leveraging to boost sales and brand awareness, let's head over to our list of top Magento email marketing platforms.
8 Best Magento Email Marketing Solutions
Don't forget about making the most of your transactional emails. SendinBlue takes care of those operational, transactional, engagement emails, and SMSes all in one place.
You can easily sync your customer data from Magento to your SendinBlue email marketing account, design your automation workflows, design your emails and send them off without needing any coding experience.
SendinBlue is a certified Magento email marketing technology partner for added peace of mind.
Best for: e-commerce businesses who need both a powerful transactional and email re-engagement solution.
Pros:
You can get started with a free account.
Manage transactional emails and engagement emails for a more personalised customer experience.
Optimise deliverability of transactional emails (to avoid the spam folder).
Cart abandonment triggers.
Real-time analytics and heat map.
SMS integration.
Cons:
Not the best when it comes to customer support.
Steep learning curve when it comes to automation builders.
Some reviewers noted that the template selection is quite limited.
Price: Free option for up to 300 emails a day, Lite: $25 p/month, Essential $39 p/month, Premium: $66 p/month.
Website: https://www.sendinblue.com/
ConvertKit is a very affordable email marketing software that is very well suited to artists, musicians, freelancers and other creatives. Their user-friendly, visual interface offers a clean and uncomplicated solution to sell your products.
And, while it is geared towards people who are not very tech-savvy, it also offers some great advanced features such as visual automation builders and integration with over 90 platforms and providers.
ConvertKit was recently featured in Capterra's Top 20 Marketing Automation Software for 2020.
Best for: Creators and small business owners who just need a straightforward Magento email marketing solution without all the frills.
Pros:
User-friendly.
Great customer service.
Free migration service.
Free online course to upskill on email marketing.
Landing page builder.
No coding required – great for beginners.
Cons:
Due to its simplicity, the visual editors might feel limited for more advanced users.
Price: Free for up to 500 subscribers, Complete option starts at $29 p/month.
Website: https://convertkit.com/
Klaviyo is one of the most popular email marketing solutions available and their strength is in segmentation, personalisation, automation and analytics.
As a certified Magento email marketing partner, Klaviyo integrates with both Magento 1 and Magento 2.
Best for: Intermediate – advanced marketers and developers who are looking to run more data-driven campaigns with deep segmentation and personalization in their email marketing.
Pros:
Free base tier (you'll only pay for the Magento integration).
Powerful one-click integration with over 100 platforms.
Dynamic forms and personalization.
ROI-based tracking and reporting.
Centralized customer profiles for a unified view.
Fantastic subscriber segmentation.
Predictive analytics.
Detailed, growth-centric reporting.
Cons:
The free tier only allows for a max of 500 emails, and the additional charges do end up being quite steep.
It's a very intuitive platform, but there's a bit of a learning curve.
Support can be slow to respond, so if you're looking for hands-on highly responsive support it might not be the best option.
Price: Free for up to 500 emails and 250 contacts.
Website: https://www.klaviyo.com/
Are you exploring ways to reach new customers? You might want to check out our list of best cold email">cold email software for 2020.
Moosend is a powerful email marketing automation platform that allows businesses of all sizes to create, manage, and execute their email campaigns.
The top features of the software include email analytics, A/B testing, drag and drop email editor, and list segmentation. Besides, it provides advanced personalization capabilities with its templates and also helps build ultrafast landing pages.
Moosend and Magento work together like a charm. Integration with Magento helps reduce cart abandonment rates and increase conversions. You can keep your customer lists in sync as the leads sort themselves out to the respective mailing lists on their own.
Every action they take on your store can be recorded, matched to the right lists, and used as a trigger for automation.
If you're looking for in-depth usage of Magento with Moosend, you can set up automations with a lead scoring sequence.
This will segment the users dynamically so that the automatons are triggered for the right audience. Segmentation also helps personalize the content of the emails so that the overall performance of the campaign is better and you see more results.
Best for: eCommerce businesses of all sizes looking to minimize cart abandonment rates and improve customer retention.
Pros:
The automation capabilities on Moosend are unmatchable.
The free plan provides eight different workflow options.
The software provides unlimited emails for up to 1000 contacts.
The newsletters are easy to make with a lot of built-in, customizable templates.
Cons:
The white label functionality has some bugs that need to be fixed.
The software has very limited analytics capabilities.
Price: Free for up to 2000 subscribers. Then starts at $8/month.
Website: moosend.com
ActiveCampaign offers a very powerful marketing and sales automation platform, and its Magento email marketing extension makes it even easier to sync your customers between your Magento and ActiveCampaign accounts. Their bulk-sync functionality makes it a breeze for keeping large customer lists up to date.
Best for: Marketers who are looking for an intelligent email marketing automation system.
Pros:
Ability to sync customers to different lists.
Powerful, easy-to-use automation builders.
Good customer support.
Free migration service.
Cons:
The email editor functionality is quite limited.
A steep learning curve, especially in the workflow setup.
No HTML editor which means you're stuck using the email builder.
Pricing between packages is quite high.
Price: Lite: $9, Plus: $49, Professional: $129, Enterprise: $22
Website: https://www.activecampaign.com/
HubSpot offers one of the most powerful email marketing and CRMs around. Their strength lies in their incredibly robust platform which allows you to personalise and automate all types of emails.
There are a number of ways to connect your Magento store to HubSpot. Using the HubSpot Connector, you can continue to market to existing customers and target new customers.
Try the 30-day free trial to really get a good idea of how the integration works!
Best for: Large enterprise e-commerce businesses.
Pros:
Powerful platform from an established email marketing solution.
Easily upsell and cross-sell.
Personalised cart abandonment nurturing.
Track revenue from specific campaigns or channels.
Great customer service.
Cons:
Since you need a HubSpot account on top of the integration fee, it can become a very pricey solution.
The pricing structure is quite fragmented and it can be difficult to easily get an idea of your total upfront costs.
Price: Starter: $40 p/month, Professional: $800 p/month, Enterprise: $3,200 p/month
Website: https://www.hubspot.com/
CleverReach is a top-tier professional email marketing software aimed at big global brands. This is ideally more of a newsletter management system with some product integration such as product search and dynamic content.
Marketing teams don't require any coding experience to build and send personalized newsletters, which makes it a fantastic solution for creative agencies or in-house marketing teams.
Best for: Agencies and brand teams with high send volumes.
Pros:
User-friendly.
Drag and drop visual editors.
Free responsive templates.
Basic automation.
Analytics and reporting.
Product integration.
Cons:
The visual editors and automation builders are quite basic, so more advanced users might feel quite limited when it comes to more complex customisations.
Price: Lite: free for up to 250 subscribers, Flat rate: $16 p/month, High Volume: $500 p/month, Prepaid $50 p/month, Monthly Prepaid: $26
Website: https://www.cleverreach.com/
When it comes to the full life cycle of your email marketing strategy, Rejoiner is one tool that does it all.
For businesses who are growing quickly and don't have the time or expertise to hire specialist staff, Rejoiner is the answer. We're impressed with the level of advanced features such as automation triggers, dynamic customer segmentation, behavioural scoring, visual workflows, and cart abandonment solutions.
Small teams can effectively manage everything from personalised welcome emails to onboarding email sequences, to drip campaigns and advanced A/B testing.
Best for: Smaller businesses that are growing rapidly.
Pros:
Saves on time and hiring of staff.
Manages the full life cycle of email marketing.
Great customer service from email marketing experts.
Cons:
Pricing is quite high for small businesses who are not planning on aggressively growing.
Price: Pricing is calculated according to the amount of contacts you have and starts at $95 p/month for 500 contacts (5,000 emails).
Website: https://rejoiner.com/
7 Magento Email Marketing Extensions
Now let's take a look at some of the best Magento email marketing extensions and see which one will be the greatest asset to your business. There are both free and paid options available for you to choose from.
1. MageMonkey by Ebizmarts (Free)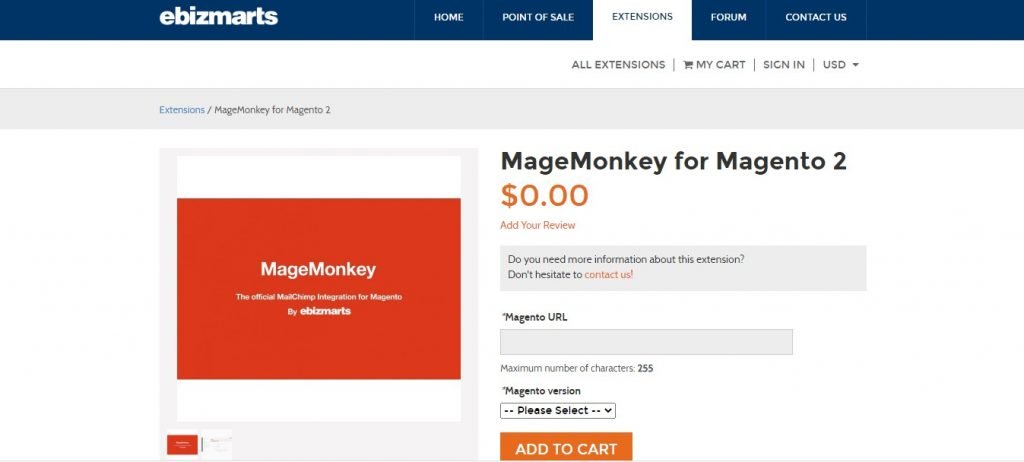 MageMonkey functions as an official module for integration with MailChimp, as well as Madrill Transactional email services. This extension is ideal for supporting multiple interest groups, and for importing or exporting bulk emails.
Key solutions include the following:
Support for autoresponder emails, such as customer birthdays, products, product reviews, and notifications of no customer activity.
Support for Abandoned Carts Recovery via Mandrill.
Allows sending additional Customer data to MailChimp as Merge fields.
Double opt-in support.
Points and rewards.
Batch sync of subscribers from Magento to MailChimp and vice versa.
Price: free with self support; $320 per 4 hours/ $580 per 8 hours.
Website: https://store.ebizmarts.com/magemonkey-magento2-29.html
2. Listrak Retail Solutions (free)
Listrak is a user-friendly, retail digital marketing automation platform, used by a wide number of leading brands. Email extensions developed by Listrak are used to develop effective email marketing campaigns, for mobile messaging and for extracting customer insights. You can also coordinate campaigns across different channels.
Key solutions include the following:
Advanced retail segmentation, allowing you to create relevant email marketing campaigns to target certain customers.
Cross-channel orchestration.
Behavioral-based triggers – automated messages to customers following particular actions, such as making a purchase.
Predictive personalization – able to extract historical customer data in order to predict future possible behaviors.
Price: free self support.
Website: https://www.listrak.com/
DotDigital is one of the richest email marketing tools for Magento. It is Magento's only Platinum Technology Partner, allowing users to develop integrated multichannel marketing campaigns. DotDigital is known for its user-friendly interface and is used by a wide range of businesses.
International companies, agencies and large SMEs are known to use Dotdigital as a platform to strengthen their existing customer loyalty and advocacy.
Key solutions include the following:
Centralized gathering of data.
Real-time data sync between Magento and Dotdigital.
Advanced segmentation feature, enabling users to send personalized emails to customers.
Follow up emails in case of cart abandonment.
Product recommendation emails.
Transactional emails (order confirmations and password reminders).
3rd party integrations.
Price: Priced from $600 per month, with a free 30 day trial also available.
Website: https://dotdigital.com/
This Magento Email Marketing Pack allows businesses to use three different modules at the same time, namely the Follow Up Email, Market Segmentation Suite, and Advanced Newsletter solutions. These modules are a winning combination when it comes to maximizing your reach and engagement with existing customers.
Key solutions include the following:
Customized email marketing triggers, such as sending birthday messages, or after a review is given, or when adding a product to their wish list etc.
Segmentation of customers according to business characteristics.
A/B testing mode.
Integration with Customer Segmentation and Coupon Code Generator.
Compatible with a wide range of other AheadWorks extensions.
Price: different for each module.
Website: https://www.aheadworks.com/
The Follow Up Email module is a great solution for increasing repeat
customer sales and developing a strong, loyal customer base. This extension allows you to send tempting offers, based on a customer's birthday, previous purchases and wish list data. You can also perform customer segmentations following detailed criteria.
Key solutions include the following:
• Email campaign statistics.
• Automatic integration of discount coupons.
• Editing email templates according to your preferences.
• Able to add more functions to the module as needed.
• Receive reviews in order to improve your stores credibility.
• Creating a blacklist of customers to avoid.
Price: starts at $139; free support and updates for 4
months.
Website: https://amasty.com/magento-follow-up-email.html
Through the Abandoned Cart Email module you can perform mass cart reminders to customers who abandon their online cart and try to motivate customers to recover their purchase. This tool is great at creating customer conversions, through customizing existing email marketing templates, and generating coupons to attract customers.
Advanced settings allow users to schedule email dispatches, send test emails and to automatically generate coupons for emails.
Key solutions include the following:
• Customizable email templates.
• Able to track the number of recovered carts per month.
• Extract statistics via Google Analytics.
• Create and import a blacklist.
• Capture emails of guest visitors with AJAX.
• Analyze campaigns with informative history grid.
Price: from $89; free support and updates for 4 months.
Website: https://amasty.com/magento-abandoned-cart-email.html
Advanced Newsletter allows you to extend your email marketing campaign by attracting customers through sending newsletters. Through this module, users can create newsletter subscription segments and then distribute personalized content to different customers. You can also develop multi-store implementation configurations for each store.
Key solutions include the following:
Personalized messages – being able to add name fields for guests, so that messages do not end up in spam.
Attractive in-block or AJAX layer based subscription form, which can attract more subscriptions signups.
Can deliver content to a highly targeted audience.
Custom newsletter templates.
Integration with MailChimp.
Sending emails from any SMTP server.
HTTPS in customer account gives more security to your customers.
Price: from $139; with free support and updates for 3 or 6
months.
Website: https://ecommerce.aheadworks.com/magento-extensions/advanced-newsletter.html
Finding the Right Magento Email Marketing Solution & Extension
From that very first welcome email to those everyday communications in the form of transactional emails, your email strategy is the most powerful method of communication you can have with your customers.
And, having a robust Magento email marketing solution is going to change how you do business because you're not only going to be communicating better, you're also going to learn a lot more about your customer.
Remember, planning to migrate to a new platform is a careful exercise, especially if you don't want to lose money. But, once you have outlined a clear strategy for now and for your future plans, it will be easier to find a solution to suit your business needs.
Lastly, while many email marketing solutions offer an all-in-one software, you might find that a combination of different Magento email marketing extensions offers a better deal – so keep an open mind!
Our Top Picks
Email Solutions:
For small businesses: ConvertKit for their easy-to-use email and automation builder which offers a great out-of-the-box solution.
For enterprise businesses: HubSpot for the sheer power of their platform and the range of complex automation and customer insights you can benefit from.
Email Extensions:
For agencies and large SMEs: DotDigital for their user-friendly interface and a broad spectrum of email marketing solutions to target customers across different segments.
For a wide range of businesses: Magento Email Marketing Pack by AheadWorks for their highly useful combination of emailing solutions, allowing you to develop a wide range of effective email marketing campaigns.
Frequently Asked Questions
What is Magento?
Magento is an open-source e-commerce platform written in PHP. Magento empowers thousands of retailers and brands with the best eCommerce platforms and flexible cloud solutions to rapidly innovate and grow. More on Magento in the full article.
What is Magento used for?
Magento provides online merchants with a flexible shopping cart system, as well as control over the look, content and functionality of their online store. It offers powerful marketing, search engine optimization, and catalogue-management tools. Read the full article for more details.
Is Magento free or paid?
Magento is an open-source platform that is available for everyone to download free of charge. The extensions may be paid or free. More of Magento extensions in the complete article.
References
G2: Business Software and Services Reviews: https://www.g2.com/
Capterra: Find and Compare Software‎: https://www.capterra.com/
GetApp: Review, Compare and Evaluate small business software: https://www.getapp.com/
Magento Marketplace: https://magento.com/resources/welcome-magento-marketplace
Email Marketing Apps Integrated with Magento Commerce: https://www.getapp.com/marketing-software/email-marketing/w/magento/